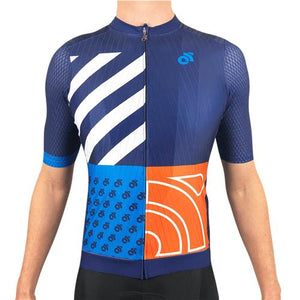 APEX+ Aero Jersey
Regular price $999.00 Sale
The Apex Aero Short Sleeve Cycling Jersey; a nearly unfair advantage in the pursuit of speed. Tailored specifically with high performance aerodynamic fabrics, and extremely close fit to provide minimal drag.
Features:
Front panel: Elite fabric - Soft, lightweight lycra blended fabric for a streamlined fit
Side panels: Tech Mesh fabric- a 4 ways stretch open weave fabric
Shoulder, Sleeves, Rear panel: Dimple fabric for reducing drag.
The same one-way shark fabric used on Olympic speed suits
Laser cut sleeve hem finished with internal silicone grip and tailored-fit
Zippered water resistant gear pocket with a reflective zipper
Silicone-injected hem provides incredible support to hold jersey firmly in place
Soft feel, tapered collar allowing for ideal comfort
Available in men and women size
XS-4XL
Club cut: This cut is a more generous fitting, being bigger in the arms, chest and is also longer.
Race cut: This cut is more traditional Euro size cut that is tighter and a closer fit garment.
Our Apex garments are designed for Elite Riders – they are a tighter fit than our regular products. If you are interested in these products please contact our sales team to discuss. You can also order sample of these items for comparison. Due to the technical/breathability of the fabric used in our Apex garments, they do not offer complete sun protection. Please wear with caution especially on warm days.