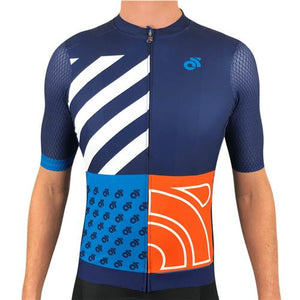 APEX+ Pro Jersey
Regular price $999.00 Sale
This will be your favourite ride jersey - the one you keep for that special weekly hit out with the bunch or for training for your upcoming race. The Apex Pro Jersey performs in all conditions, no matter what the road throws at you.
Features:
New anatomic, close fit cut. This jersey is designed to be a very close, body hugging fit.
Constructed with two high end premium Italian fabrics, each located for a specific performance purpose.
Front, Rear, Shoulder & Sleeves: Elite Fabric, a soft, lightweight fabric with a high lycra content allowing a perfect fit and heightened levels of comfort.
Underarm, collar & Side panels: Dimple Lite, a breathable tensile lightweight fabric, with high stretch, allowing a close tight fit across the body.
Three rear storage pockets with slash side pockets for easy access whilst on the bike.
Reinforced pocket anchor to ensure maximum storage capacity.
Zippered water resistant gear pocket with a highly reflective durable strip.
Wide band silicon injected front hem provides incredible support to hold the jersey firmly in place, a key factor in overall jersey comfort.
Lower and upper zipper garage to provide minimal irritation in any conditions.
Silicone rear hem keeps jersey in correct position whilst riding.
Soft feel, tapered collar allowing for ideal comfort.
A full zipper - adapt to all conditions.
Men's Club & Race Cut and Women's Cut available.
XS-4XL size range.
Our Apex garments are designed for Elite Riders – they are a tighter fit than our regular products. If you are interested in these products please contact our sales team to discuss. You can also order sample of these items for comparison. Due to the technical/breathability of the fabric used in our Apex garments, they do not offer complete sun protection. Please wear with caution especially on warm days.