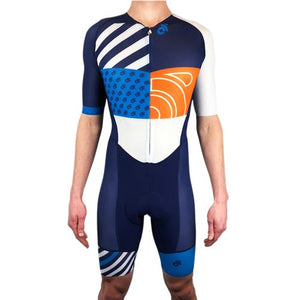 APEX Summer Race Suit
Regular price $999.00 Sale
We pioneered "race suit" technology when we introduced the original summer race suit in 2007. Back then we called it the "criterium suit" thinking that racers would only wear it in short distance events. Little did we know the pro riders made our race suit their go to garment for every type of event, from criteriums to 5+ hour mountainous road races. Why? Because they wanted a tight-fitting yet comfortable, aerodynamic suit.
The Apex Summer Race suit is the ultimate in one-piece race suit technology. The front of the top, sleeves and side panels/leg bands are all made from our CS TechMesh, a lycra-mesh fabric with millions of tiny air holes to keep you cool. There are two rear pockets to carry bottles, etc.
Features:
CS TechMesh fabric on the front of the top, sleeves and short side panels/leg bands
CS Contour lycra on the back of the top for UV protection
Flatlock stitching
Heat-sealed no-collar design
2 rear pockets (option to remove pockets)
Extended front zipper to allow for "nature breaks"